2013 -Sept.Egernsund DK Foto GB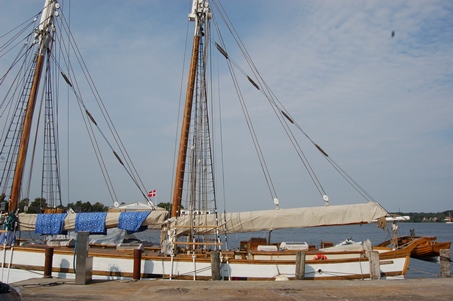 Side by sid with CAROLA Sept. 2013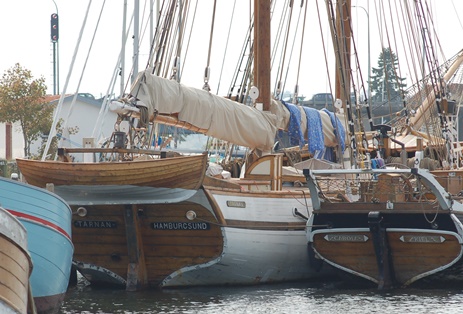 | | |
| --- | --- |
| Schiffsname | Tärnan |
| Ex-Namen | |
| Nationalität | |
| Heimathafen | Gothenburg |
| Typ | Frachtsegler Jagtschoner |
| Rigg | Gaffelschoner |
| Baujahr | 1913 |
| Bauwerft | Sternö shipyard |
| Bauort | Karlskrona |
| Länge (London) | 22,06 m |
| Länge (Meßbrief) | m |
| Länge über alles | m |
| Breite | 5,85 m |
| Tiefgang | m |
| Segelfläche | 300 sqft m² |
| Motor | Segel |
| Leistung | 240 PS |
| Museumshafen | |
Die Historie
Tärnan was built in 1913 on the Sternö shipyard in Karlskrona, for shipping boulders to Germany, hence the extra thick Hull. The buyer was Frans Ferdinan Holm, Karlshamn. In 1918 she was sold to shipowner O.E. Lundstrom. In 1922 Reinhold Holm, Höganis, bought the ship. He installed an ignitionbulb engine at 25 hp.In 1942 Erik Nestorsson, Hamburgsund, purchascd Tärnan. His first cargo was crushed pottery from Höganis to Lübeck. Then threre was coal from Poland to the south•Swedish parts. She got a new, 2 cyl. 80 hp Seffle ignitionbulb engine an Skärhamns shipyard in 1947 and was changed to galeas rig. In 1960 she was sold to John Martinsson from Hamburgsund.
Pelle Warnholtz bought Tärnan in 1966 and has since then worked to restore her to original exterior condition, including the schooner rig.
Hinweis 12.12.2013
In January 2013 Tärnan was purchased by Dr. Jennifer Gidley. Tärnan is currently lying in Aeroskobing Harbour, on Aero Island, Denmark for the winter.
She has just been fully recaulked and repainted and is ready for sailing to Douarnenez in Brittany, France, in May 2014.
Quelle und mehr unter
<style><!-- [et_pb_line_break_holder] -->.et_post_meta_wrapper { display: none; }<!-- [et_pb_line_break_holder] --><!-- [et_pb_line_break_holder] -->/*** Take out the divider line between content and sidebar ***/<!-- [et_pb_line_break_holder] -->#main-content .container:before {background: none;}<!-- [et_pb_line_break_holder] --><!-- [et_pb_line_break_holder] -->/*** Expand the content area to fullwidth ***/<!-- [et_pb_line_break_holder] -->@media (min-width: 981px){<!-- [et_pb_line_break_holder] -->#left-area {<!-- [et_pb_line_break_holder] --> width: 100% !important;<!-- [et_pb_line_break_holder] --> padding: 23px 0px 0px !important;<!-- [et_pb_line_break_holder] --> float: none !important;<!-- [et_pb_line_break_holder] -->}<!-- [et_pb_line_break_holder] -->}<!-- [et_pb_line_break_holder] --><!-- [et_pb_line_break_holder] -->/*** Hide Sidebar ***/<!-- [et_pb_line_break_holder] -->#sidebar {display:none;}<!-- [et_pb_line_break_holder] --><!-- [et_pb_line_break_holder] --><!-- [et_pb_line_break_holder] --></style><!-- [et_pb_line_break_holder] --><!-- [et_pb_line_break_holder] --><script><!-- [et_pb_line_break_holder] --><!-- [et_pb_line_break_holder] -->if (document.referrer.split('/')[2] === window.location.host) {<!-- [et_pb_line_break_holder] --> jQuery('#backtosearch').attr('href', document.referrer );<!-- [et_pb_line_break_holder] -->}<!-- [et_pb_line_break_holder] --></script>